Public Comment period ends on January 5. Here's a link!
And here are some articles about Badger Coulee: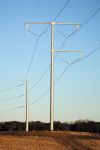 And tell Michael Vickerman what you think of his support of the "it's all connected" massive grid build-out:
And as to the Public Service Commission attendance at the hearings — what are you gonna do?